Benefits of borrowing with us
Easy application process
Easily accessible online application form that can be completed in 2 minutes.
Continous Funding
Access to a repeat loan after successful completion of current loan.
Flexible Repayment
Monthly repayment terms over 3-12 months depending on your businesss needs.
Easy Monitoring
Access to monitor your loan status at all times.
Affordable Interest
Affordable interest rates at 5%-8% monthly.
No extra charges
No processing fee charged or any extra hidden charges
Flexible Requirements
No hard collateral security required
Financial Education
Accessible to financial education.
All Industries
We provide loans to all sectors
Repayment Incentives
If the entire loan obligation is paid early, we will provide a refund of the interest amount for every month paid early.
Speedy Processsing
We request for additional financial and business data and administer a simple survey to assess your risk profile and loan limit and turnaround in 2-5 days.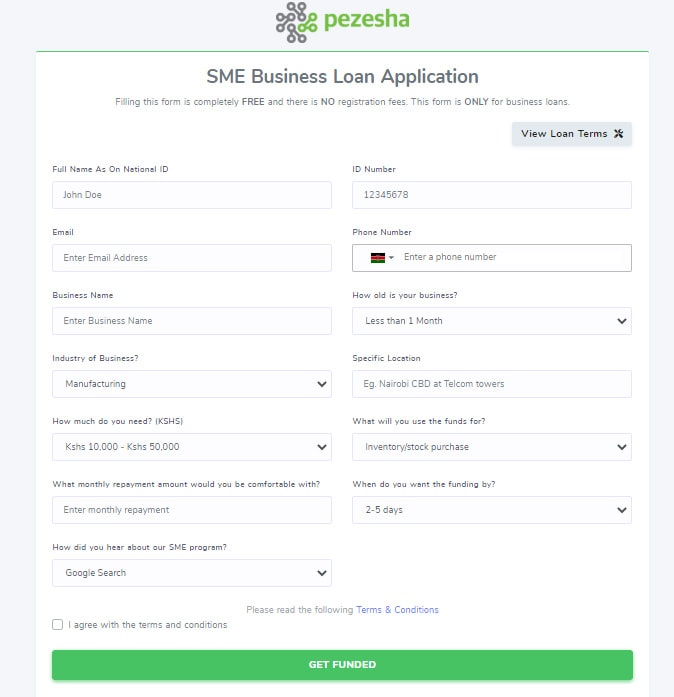 Apply in less than 2 minutes
Real time KYC and business risk based credit assessment within hours
Digital loan offer presented to you if you qualify based on your credit risk
If Accepted requested to submit additional data (if need be) to complete the on boarding process
Once on boarded the SME is then matched to investors on Pezesha marketplace within seconds.